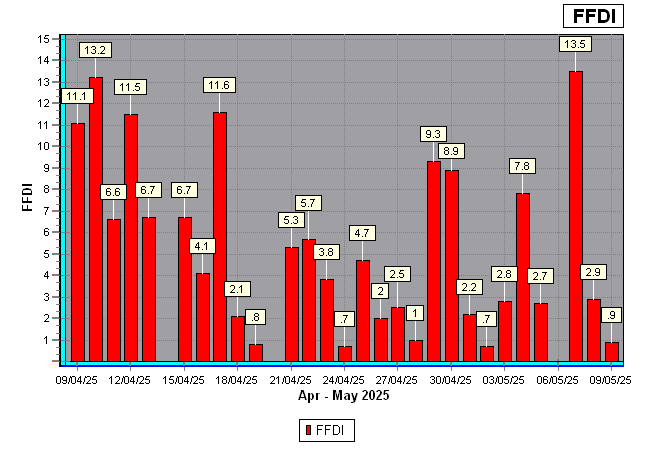 Click one of the six thumbnail graphs to display it as the large graph.
Tasmanian - Fire Ban Status : Currently NO Tasmanian Fire Bans Declared
North East Tas - Fire Danger Status :
TFS - FIRE DANGER RATING : Moderate
Tasmanian - Fire Permit Status : A fire permit can be obtained by free calling 1800 000 699
---
NOTE: You are reminded that fire restrictions apply throughout the fire season. Permit periods are usually in force during the dry summer period from November to March although this will vary from year to year depending on the dryness of the vegetation and the fire danger. Based on the latter, Tasmania is Currently in Fire Season!
NOTE: For information on FIRE BANS, please contact the Tasmanian Fire Service (TFS) Hotline on 1800 000 699 or visit the Tasmanian Fire Service web site. Additional Fire Weather related information is also available through the Bureau of Meteorology web site.
Also available on the TFS website : Bushfire Protection Plans | Scamander/Beaumaris Plan (pdf)
During outages of the TFS Website members of the public should refer to their
ABC Local Radio
for bushfire information and updates.
---
Un-Official - Fire Danger Rating :
Beaumaris East Coast Tasmania

.

The following Data is produced by Beaumaris - Weather (beaumaris-weather.com) for our local area.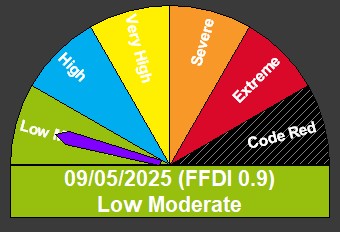 IMPORTANT: DO NOT USE THIS INFORMATION FOR MAKING DECISIONS.
Fire Danger Information for Beaumaris is calculated on site by FWI Calc software, daily at 09:00 and updated as necessary throughout the day until the peak values have been reached.
The lastest update was at : 20221205 10:15
| Index / Code | Value | Calc Inputs | Value |
| --- | --- | --- | --- |
| Forest Fire Danger Index (FFDI) | 1.9 | Temperature at Initial Calculation Time (Temp) | 17.8 |
| Grass Fire Danger Index (GFDI) | 2.6 | Humidity at Initial Calculation Time (Hum) | 89 |
| Fire Weather Index (FWI) | 0.7 | Wind at Initial Calculation Time (Wind) | 11.3 |
| Fine fuel moisture code (FFMC) | 63.6 | Rain at Initial Calculation Time (Rain) | 2.00 |
| Duff moisture code (DMC) | 10 | Peak Times (ReCalc Time) | 10:15 |
| Drought Factor (DF) | 4 | Peak Tempurature (ReCalc Temp) | 18.2 |
| Initial spread index (ISI) | 0.9 | Peak Humidity (ReCalc Hum) | 86 |
| Build up index (BUI) | 14 | Peak Wind (ReCalc Wind) | 12.9 |